Who is online?
In total there is
1
user online :: 0 Registered, 0 Hidden and 1 Guest
None
Most users ever online was
34
on Sun Oct 27, 2013 2:02 am
Statistics
We have
34
registered users
The newest registered user is
darcifau
Our users have posted a total of
366
messages in
75
subjects

wooo i love this game <3
Labyrinth of Touhou (東方の迷宮, romanized Touhou no Meikyuu), also known as Touhou Labyrinth, is a Touhou-centric dungeon crawler with similarities to titles such as Wizardry or Etrian Odyssey. A large cast of Touhou-series characters is included, as well as a number of references and cameos of other role-playing, anime, and danmaku titles.
GAMEPLAY: The main gameplay of Labyrinth of Touhou takes place within a 20-floor dungeon (30 with Plus Disc), which characters explore by moving a Reimu avatar around a large map of each floor, discovering events, boss battles, and all sorts of objects to interact with. The game uses a team of 4 characters, although 8 more can be brought in reserve into the dungeon at a time, that can be swapped in and out of battle. Successful selection and management of the team, as well as use of their individual (and fixed) abilities, is key to survival.
STORY: After an extended stay at the Scarlet Devil Mansion, Reimu Hakurei has failed to notice that the boundary between Gensokyo and the outside world has begun to fall apart, and only realizes it when a huge rift in space opens above them. Accompanied by Marisa Kirisame, Remilia Scarlet, Sakuya Izayoi and Patchouli Knowledge, she begrudgingly goes to explore the mysterious dimensional rift so that she may continue lazing around without distractions.
(Info from Touhou Wiki)
Now for teh screen shots: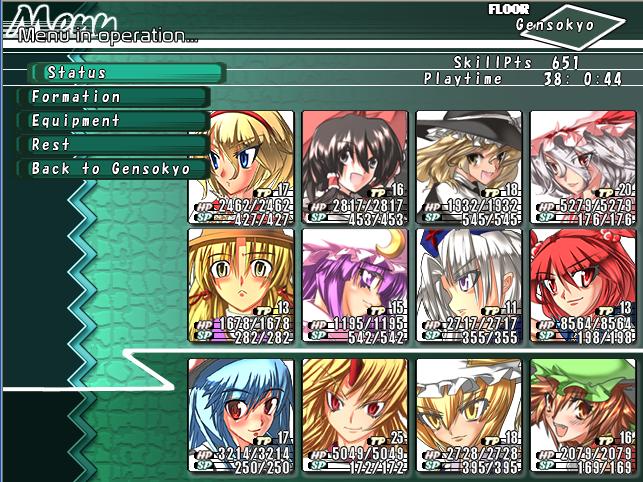 The 4 slot Party + 8 slot Reserve party
if this is Floor 8, amagine the rest
Even MANnosuke is a boss in this, but beware, if you open a boss battle with even 1 character 1 level too low, you WILL get pwned
now that that is done (double that) who else plays it? no one? ok =P

---
Permissions in this forum:
You
cannot
reply to topics in this forum